9 Days - 8 Nights - Border to Border - Mae Sot / Myawaddy to Myeik / Kawthaung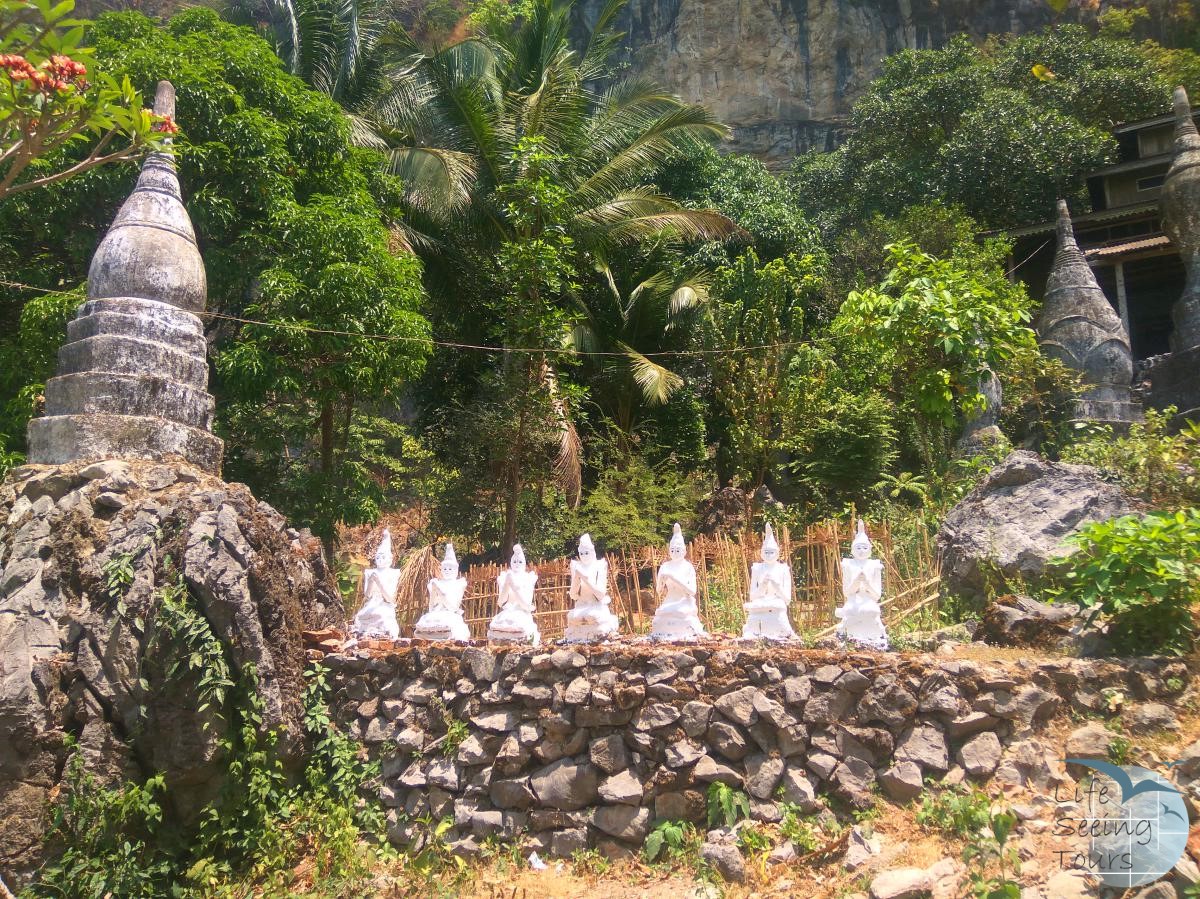 ITINERARY IN BRIEF
Day 01 - Arrival to Mae Sot and overland transfer to Hpa An
Day 02 - Hpa An's lesser known carst rock mountains and walks
Day 03 - By local boat down the Salween (Thanlwin) River and continuing onwards to the sleepy town of Ye
Day 04 - Ye to Dawei Crossing the Tanintharyi Mountains - Visit of an authentic village along the way
Day 05 - City Tour Dawei with visits of family owned businesses and colonial architecture – Visit to Maung Ma Gan Beach for sunset
Day 06 - Overland to Myeik – Evergreen and beautiful landscapes
Day 07 - Myeik City Tour – Shipyard, Softshell grab, dry fish, local culinary delights and many more things on this colourful city of buzzing harbor town Myeik
Day 08 - Unseen Mergui Archipelago – Take a deep look into the mighty 800 Island Archipelago
Boating time
Day 09 - Morning Flight to Yangon or Kawthaung - Border Crossing to Thailand
DAY 1: Myawaddy / Mae Sot to Hpa An (-/-/-)
We pick you up at Mae Sot Airport (3 or more flights a day from Bangkok with www.nokair.com) and transfer you to the friendship bridge of Thailand and Myanmar. After an easy immigration process (E – Visa is available) you will be on your way to Hpa An.
In the afternoon we will arrive in Hpa An. If time permitts, we enjoy the sunset at Shwe Yin Myaw Pagoda at the bank of Thanlwin (Salween) River. Here you will get to know why Hpa An literally translated frog vomit means.
Lunch and Dinner are to your own account.
Meals: none
Overnight stay: Hotel in Hpa An
DAY 2: Hpa An Discovery (B/L/-)
After breakfast we pick you up in a traditional Burmese Tuk Tuk for our day around Hpa An. First we visit the Yathaypyan Cave. The legend says that in the 12th century a hermit hit an original Buddha statue from the king in this cave. When the king's army approached, the hermit gained superpowers and flew away into the sky with the statue. A viewing platform on the other side of the mountain will give us an impressive view of the rice field cultivation. From the entrance of the cave we take a boat through another limestone formation (only possible from January – May due to water levels). In a nearby hut, we have a chat about the Karen people's traditions and customs and see some of their typical daily items.
Our next stop is scenic Kyauk Kalat Monastery, which is built on top of a single rock formation and seems to been set in the sky.
Mingle with the locals at the waterfall village and have a splash in the local swimming pools. Please note that we need to wear T-shirt and Shorts for swimming here. For lunch we visit a local permaculture farm and enjoy traditional Karen food (vegetarian options available). Take a rest under the shady trees before driving to a traditional Karen village where we will learn more about their customs, values and daily life.
The village itself is without electricity and the 40+ people choose to live like their grandfathers and grandmothers. We can watch them weaving or preparing traditional roofing (seasonal). It is interesting to notice that even some people in a third world country choose to skip the comfort living and problems of a first world country.
A 40 minute hike to the top will offer a breathtaking view over 360 Degree sunset views (optional). Afterwards we return back to your guesthouse in Hpa An or drop you at a restaurant nearby. Dinner is to your own account.
Meals: Breakfast, Lunch
Overnight stay: Hotel in Hpa An
DAY 3: Hpa An to Ye (B/-/-)
After breakfast, we take the private boat to Mawlamyine (Moulmein). Enjoy the scenic cruise along the Thanlwin River. Along the way we stop at U Nar Auk Monastery, which was built during the British Colonialization from the finest craftsmen during this time.
We proceed from Mawlamyine to Ye. Our first stop will be Thanbyuzayat. It is located about 34 km from Mawlamyine and starting point of the Death Railway connecting Myanmar (Thanbyu Zayet Station) and Thailand (Bang Pong Station) with the Bridge over River Kwai, constructed by the Japanese during WWII. This Death Railways was started in May 1943 and official opened on 25th October 1943. The newly erected war Railway museum is well worth a visit.
After Lunch we leave for Ye. The roads become narrower and the villages along the way smaller.10 Miles before YE we will stop to visit the Banana Mountain from where you can overlook the whole Ye valley. The tower at the top with its nine levels and nine different decorations are well worth a climb. After arrival in Ye we refresh at our hotel. If there is enough time we can enjoy a marvelous sunset from the Ye Railway Bridge.
Lunch and Dinner are to your own account.
Meals: Breakfast at your hotel
Overnight stay: Guesthouse in Ye
Transportation: Private Car and traditional boat
DAY 4: Ye to Dawei (B/L/-)
After breakfast we will start our journey over a stunning mountain range, which divides the Tanintharyi Division and the Mon State. The drive is winding up and offers a stunning landscape.
Before we reach Dawei we visit Nabule Beach, where the Burmese Government plans the biggest Deep Sea Port in South East Asia. You will find a nice empty beach stretch for yourself as finances of the project are unclear until today. Feel free to go for a swim. Please note there are no facilities at all. We prepare a simple picnic lunch for you on the beach. Take your time and relax on the magnificent beach it might be gone in the near future.
After arrival to Dawei we check in to your hotel for refreshments. Dawei is the capital of Tanintharyi division in the south of the Myanmar, formerly known as Tavoy. Dawei was one of the first cities, where the English settled after the 1st Anglo-Burmese in 1826. As a result the town has a long lasting history and picturesque buildings from the colonial times. Dinner is to your own account.
Meals: Breakfast at your hotel, Light Picnic Lunch
Overnight stay: Hotel in Dawei
DAY 5: Dawei City Tour and Maung Ma Gan Beach (B/L/-)
We will have a look around to get a picture of Dawei's daily life and famous sights. A family owned cashew nut business with its ever smiling workers will show us how much work it is to peel one nut. How people can make a living in Dawei is the question we will ask on the way to San Maria Beach. By the end of the day we hope you have all the answer you need.
Most of the farming nowadays is rubber plantation. How the white rubber sheets are made we will show you at one of the uncountable plantations. Beside the rubber trees there is another big industry, dried fish. How long fish has to lie in the sun we can find out at one of the fishing villages. Everywhere in Tanintharyi Division you can find beetle nut trees. They even export the beetle nuts to India.
We will have lunch in front of Myaw Yit Pagoda, connected by a bridge with the main land. Afterwards we are going for a swim or simple stroll along San Maria Beach. Be not surprised if you are the only one for the day at the beach as mass tourism is still far away. We will provide a light picnic lunch with fruits and snacks for you on the beach.
On the way back we can stop at hot springs to wash the salt of. It is been said, that the 60 C hot waters have healing powers.
In the late afternoon we reach the well-known Maung Ma Gan Beach. Enjoy the relaxed and uncrowded beach atmosphere with a sun downer and a delicious seafood dinner. Return to your hotel after a fabulous sunset. Dinner is to your own account.
Meals: Breakfast at your hotel, Light Picnic Lunch
Overnight stay: Hotel in Dawei
DAY 6: Overland to the fishing town Myeik (B/-/-)
After breakfast we leave for Myeik. These 230 kilometers of road have been closed for foreigners for a long time. In past even locals needed a permit to pass that road, plane and ferry boats were the only way of transport. Just a few miles after Dawei we visit the Shin Mok Hti pagoda, which can be dated back to 1438 and houses original pieces of the bodhi tree.
Our drive takes us through tiny villages. We will stop every now and then to discover the daily lives of the rural community. Lunch along the way in a clean local restaurant.
We reach Myeik in the afternoon. Already in the early 17th century the East Indian Trading Company were unloading their ships at the ports of Myeik. Most of the goods would go inland and from there up to Tanintharyi and further on to the old capital of Siam Ayutthaya. The rest of the afternoon is for your own leisure. Lunch and Dinner are to your own account.
Meals: Breakfast at your hotel
Overnight stay: Hotel in Myeik
DAY 7: Myeik City Tour (B/L/-)
Myeik is one of the biggest fishing towns in Myanmar. Already in the early 17th century the English East Indian Trading Company was unloading their ships at the port of Myeik. Most of the goods would go inland and from there up to Tanintharyi and further on to the old capital of Siam Ayutthaya. "Beik" as the locals call it there hometown produces everything for the fishing industry what is needed. Have you ask yourself where all the ice comes from to keep the seafood fresh? We visit a ship dock yard where they still build the wooden boats like in the old days. One of the export products are soft shell crabs. We will explain you on a farm how the crabs take off their shells.
Myeik's dry fish area might not be for everybody, but it has not change for decades. We will take you for a wander and explain what fishes been tried in the sun to preserve them for later.
For lunch we take you to a traditional fried rice noodle shop, where Myeiks all-time favorite food Kyi Kite is made.
Another industry widely used industry in Myeik is the harvesting of bird nest. We take you to one of the bird hotels and let you know what it is good for. As many nations came together the local cuisine became a mix of Burmese, Thai, Malaysian and Indian. We can have a taste of it at the local snack market of the specialties. The pearl industry is another of Myeik's local specialties. How difficult it is to cultivate them will be explained at the Pearl Trading Shop, which is run by the same family for over a hundred years.
After a long day and many impressions it is time to spend a quite sunset with a 180 panoramic view over Myeik and the islands either from the Thein Daw Gyi Pagoda or a roof top bar. We leave this decision up to you. Dinner is to your own account.
Meals: Breakfast at your hotel, Traditional Lunch
Overnight stay: Hotel in Myeik
DAY 8: Mergui Archipelago Day Trip (B/L/-)
We make an early start from Myeik's Seik Nge Jetty. It's a one and a half hour cruise to Dome Island. Feel the fresh sea breeze as we pass beautiful mangrove forests. Here and there tiny villages line the shore. The people who live here catch fish, crabs, mussels and oysters.
Our first stop will be Dome Waterfall, which cascades down from high above right into the ocean. You are able to climb up and a have a refreshing bath. Please be careful walking around on the slippery rocks and respect the fishing boat, which might refill their fresh water supplies.
Later on we arrive to Dome Nyaung Mine Village. The fishermen share their place with sea gypsies, which are called Moken in the local language. Their lifestyle reminds us of a simpler time before bank accounts and life insurance. Many spend their life permanently at sea during the dry season, only seeking the shelter of land when the heavy rains come. We will have seafood and vegetarian lunch in the authentic village.
After lunch we cruise on to Smart Island for swimming and snorkeling in pristine waters. The shapes of the island with one long beach and three smaller one is one of its kin. The long and the small beaches are within 5-10 minutes walking distance. Enjoy you afternoon relaxing, swimming, playing, sunbathing and whatever else you would like to do.
And then with the last rays of sunshine dancing on the sea we return to Myeik.
This day tour is designed for people who would like to explore the most of the Archipelago in one day and don't mind spending a few hours on a speedboat. The rewards will one of the most beautiful beaches you have seen.
Please note: The Mergui Archipelago will be a joint tour with other customers. Program might change on tide and weather conditions. Participants need to submit their personal details. We do not recommend pregnant customers and customers with back ache to join the trip. The Alternative will be a slow boat trip without snorkeling.

Meals: Breakfast at your hotel, Lunch at the beach
Overnight stay: Hotel in Myeik
DAY 9: DEPARTURE (B/-/-)
After breakfast we transfer you to the Myeik's airport. You can reach Bangkok the same day with a direct flight to Yangon and an airplane change to Bangkok. Arrival in Bangkok can be early afternoon.
Please note: This tour can also start from Kawthaung.
Included Services
Private transfer as specified in the itinerary
All entrance fees to the sites mentioned in the itinerary

English speaking guide

Accommodation with breakfast on double occupancy (Single supplement varies)

2 bottles of water & 2 cooling towels per person / day

Luggage handling fees at airports

Private Boat Trip from Hpa An to Mawlamyine

Joint Speed Boat Trip Mergui Archipelago

5x Lunch
Excluded Services
Visa to Myanmar

International airfares & domestic airfares (will be always mentioned separately)

Meals, if not otherwise mentioned

Personal expenses (laundry, beverages, phone bill...)

Travel insurance

Tips